I was featured! Woot Woot!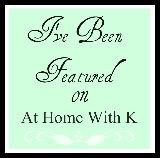 I don't really have time to do any decorating projects right now. Too busy ripping out wallpaper and making sure we have usable bathrooms. It was nice to take a break from troubleshooting sprinkler systems to do a little crafting.
So I dug out frame G got at a yard sale for a buck.
Spray painted it white. Realized my backyard is not good for spray paint. Bits of plants and bugs got stuck in the paint. So I distressed the frame to remove the flora and fauna. And added a hook I got at Ikea.
For the print I totally
stole the idea
was inspired by Three Men and a Lady
The final product!
I need to get some command strips. It's currently hung using the wire on the frame which is not sturdy and causes the frame to lean from the wall. Now I just need to find a way to add "MAKE SURE YOU USE SOAP" for my kids.
Oh I am a linking MACHINE!